Planning to export? Here's how to go global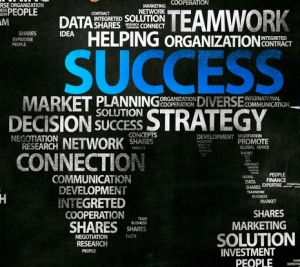 Planning to export? Read the Cintra Translations' how-to on researching new customers and markets abroad
Today on the Cintra blog we're kicking off a four-part mini series that will help you find, research and compare potential new markets for export.
We'll also point you to sources of information for insights on the spending power, habits and preferences of your new customers. And you won't want to forget a thorough analysis of competitors all after slices of the same pie.
Sounds time-consuming and expensive, not to say daunting? Yes – you certainly need to invest time and there are costs to any expansion plans. But don't be put off: there's plenty of expert help around. Much of it is free online. But there's no substitute for sitting down face-to-face with a real expert, though, and the good news is, the UK Government agrees. In its search for the income and boost to UK growth exports deliver, there's substantial help available free and at heavily subsidised rates through the UKTI – the British Government's Trade and Industry arm. That's the subject of our first blog here, so read on.
In blogs to follow we'll explore how membership of your local Chamber of Commerce will tap you into an experienced network, offering help with the challenges of logistics and paperwork, as well as marketplace snapshots and in depth analysis.
And we'll explore the range of financial help, including grants to help you afford commercially available sector-specific research from the big names in market analysis. There are even grants towards professional translation and interpreting services, so do stay tuned! 
We'll start with what's on offer from the UKTI:  support, advice and even inspiration for growing your business. You wouldn't necessarily expect it from a government organisation, but in our experience, the UKTI's big strength is in its personal touch.
Start by booking your free appointment with one of the UKTI 's Export Advisers. Why?  On average, companies earn £100k in additional sales within 18 months of working with UKTI, and most of the advice given by their trade experts is FREE.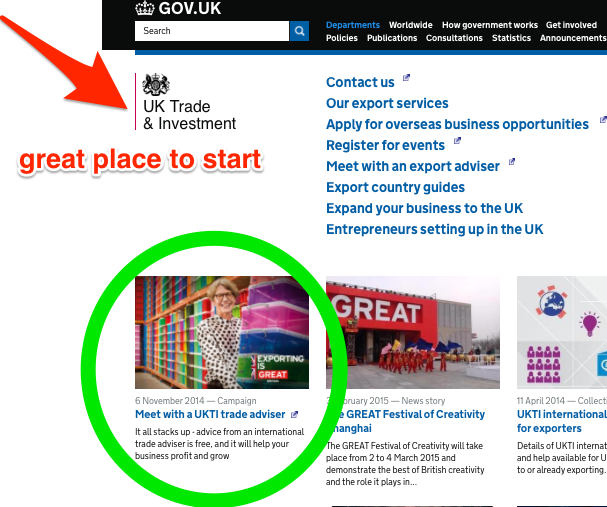 All you need to do is apply on the UKTI website: http://www.greatbusiness.gov.uk/ukti/ Fill in the contact form. There's also a phone advice line: 0300 456 3565
Go to export events  If you'd prefer to dip in just a toe before getting up close and personal on a one-to-one level, look out for regular events with an export focus organised by the UKTI. These offer a chance to network with other companies at different stages on the export route.
Find out more and register for updates and invitations: http://www.events.ukti.gov.uk
Did you know that you can actually commission overseas consulates to compile information specifically for your business?  That's a step that was vital to the export success of specialist engineering company, Meltech. Have a look at their case study on the UKTI website. "We have commissioned several Overseas Market Introduction Service (OMIS) reports to get vital local knowledge," says Meltech sales director, Peter Drever. "If we are looking at a new market, one of the first things I would turn to is an OMIS report. Look at it this way: one such report, containing comprehensive local information, typically costs the equivalent of half an airfare."
Go online for help and advice on every aspect of the planning and practicalities of exporting. Case studies, financial support, training courses and country specific advice: – it's all there on the UKTI Business is Great website: http://www.greatbusiness.gov.uk/information-and-training-for-first-time-exporters/
Does exporting add up for your business?  If you're looking for basic, big picture and up-to-date economic and demographic information, one place to start is with regional and country summaries from the Foreign and Commonwealth Office (FCO). The FCO factsheets will kick-start your desktop research with population stats, and country comparisons and rankings on levels of development and ease of doing business. And complete your target country PEST(LE) analysis (see our earlier blog) with robust information on political, economic and security risk, including assessments on bribery, threats to intellectual property and levels of crime. Go to: https://www.gov.uk/government/collections/overseas-business-risk
Get the rest of the Cintra Go Global Planning for Export Success series straight to your inbox. Sign up in the left-hand navigation bar on this page.