Localising Election 2015 messages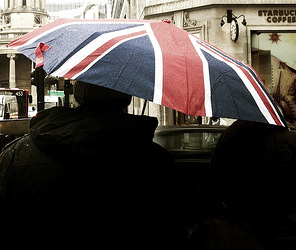 Speculation about the role of the Scottish National Party after Election Day on 7 May has got me thinking about how a higher profile for Scottish MPs at Westminster might just benefit the translation and interpreting sector. For a start, we might find some new untranslatables making an appearance:Movie A Dog's Purpose (2017)
Dreich is the Scots shorthand for dark and dreary days of bleak, cold and depressing rain. That should work well for English and Welsh voters too! Smirring is an altogether gentler rain although responsible for some real bad hair days. Most women could make good use of a (printable) word to describe that fine, drizzling wet you can't quite see, that comes with a powerful frizz action.
When you give something a shuggle you shake it about, or loosen it up a bit. Perhaps a new, post-election coinage might encapsulate politicians shuggling along together in coalition?
For all those voters who keep changing their minds, there's swithering, which is almost onomatopoeic. And lastly, there's my particular favourite: wabbit, a unique mix of tired and exhausted, defined by a Glaswegian friend as feeling ironed to the bed sheets. A fair few politicians might find that a useful term come May 8.
So, I'm looking forward to an injection of vividly descriptive new words for our translators to get their heads round. Can we also anticipate a run on our localisation services? After all, whatever the precise outcome of the election, it's a fair bet that many of the new MPs, regardless of party, will have a worldview and familiar cultural references very different from the current Westminster bubble.
As someone who pays close attention to just how connected politicians are to the electorate, I can't help wondering where the SNP leader Nicola Sturgeon gets her messages? In Scotland, when people talk of getting the messages, they're not talking focus groups and hard-working families. No, in Glasgow, Edinburgh, St Andrews and Fort William, getting the messages means you're just popping off to Tesco or the Co-op, not taking in the kind of electioneering designed to persuade us that our politicians really do know the price of a pint of milk!
This carefully localised message was crafted for a British audience by me, Tess Wright, Cintra Translation's CEO. Our translators and interpreters are experts in localising your marketing materials wherever in the world you do business.
Photo Credit: Thank you to pjohnkeane via Compfight cc