Archives for case studies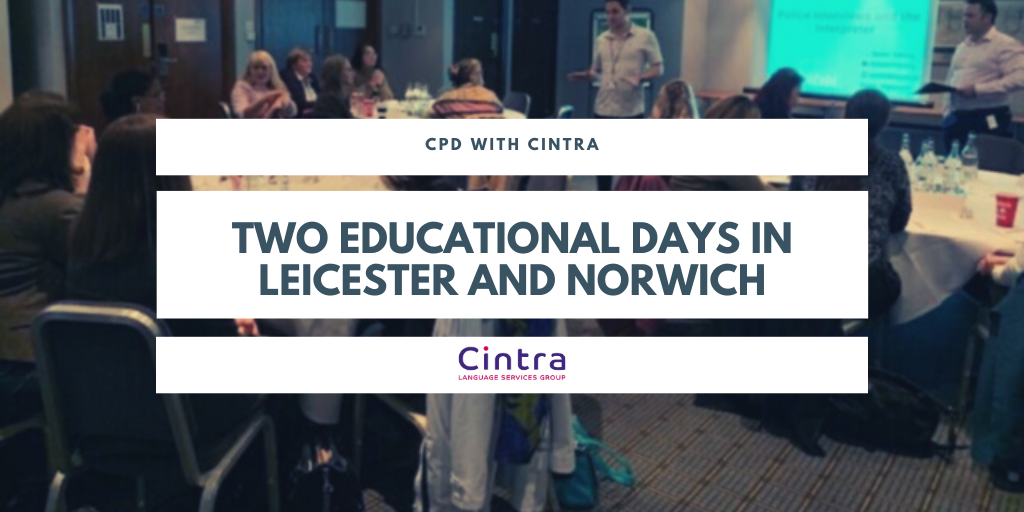 For a successful and well-prepared interpreter, continuous professional development (CPD) is a must, and here at Cintra we take this very seriously. We make sure that our linguists have regular access to high-quality CPD events that help them become better professionals and ensure they can keep up with the latest hot topics and regulations within their fields.
As Tamás Kovács, our Human Resources Advisor explains: "The importance for linguists to attend our CPD events is mainly to further improve their knowledge and interpreting skills within a specific area. All major interpreting and translation qualifications heavily focus on interpreting and translation techniques and they often miss out vital parts like interpreting environment, personal safety and extra precautions. For example, the Zakon police CPD event in July explained and demonstrated the key rules which are to always safeguard yourself, know the exit routes and never be left alone with the victim or witness.
Apart from the specialised training these CPD events deliver (e.g. mental health, police training, human trafficking), another fantastic opportunity for our interpreters is to network with other linguists, learn the best practices and also, to meet and speak with Cintra staff members. Many linguists join our CPD events because of the great networking opportunities and also, to find out in what ways Cintra can help improve their qualifications and language skills."
In the past two months we organised two special CPD events, one in Leicester and one in Norwich. The one held in Norwich on 23 November focused on interpreting for the police and advanced interviews. As Tamás said, we had a very similar event in the summer. After our July event, we received so much positive feedback from our interpreters who attended, that we decided to organise another training day on the very same topic with Zakon, so those linguists who missed the first one might also participate.
We held our other CPD day on 18 October in Leicester on transgender awareness with the help and support from Leicestershire Police. The session helped raise the visibility of transgender and gender non-conforming people, increased the linguists' cultural awareness, knowledge and communication skills, it explained the rights and wrongs and what the Gender Recognition Act says. It mainly focused on the issues for police, custody staff and linguists. The session was led by Jane Chaplin and Penny Ellis from Warwickshire and West Mercia LGBT Independent Advisory Group and Lynne Woodward, Head of Equality and Human Rights at Leicestershire Police.
The linguists who attended these two events gave us very good feedback, saying these CPD days helped "fill gaps in [their] knowledge and refreshed earlier training that had been undertaken in this area." They found them "very informative and professionally delivered".
If you are interested in attending one of our future CPD sessions or have any feedback or suggestions, please do not hesitate to get in touch with Tamás via email at hr@cintra.org.uk or by calling 01233 346870.