Tag archives for charity
The Great North Run - one of the athletics world's famous fixtures.  And my third race with Mo Farah, my hero, after the London Marathon in April and my first London 10k the year before - my first ever race. The night before that one I was ...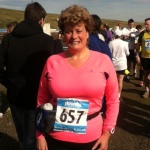 For Christmas, I was given four books about running, including Mo Farah's autobiography, and a calendar with a peel-off witty or motivational aphorism for each day, such as 'pain is just weakness leaving your body' or 'running requires a strong body and a sick mind!'. And ...