Meet our Bookings Team Manager, Ursula!
Cintra is like a machine with many interconnected and intricate pieces that have to align perfectly so that we can provide a great service to our customers. One part of this machine is, of course, our highly experienced and trained interpreters who are out there in the world, helping you communicate and make sure you can get your message across. However, out of public view there is a whole team of busy Bookings Coordinators who make sure that the right interpreters get to you at the right time, and help that Cintra machine stay well-oiled and run smoothly.
Today we've caught up with Bookings Team Manager Ursula Fairhurst to ask her about what her team do and how they can help you.
Could you tell a bit about yourself? How long have you been at Cintra? What is your role at the company?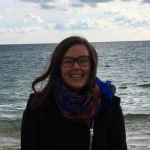 I'm the Bookings Team Manager at Cintra Language Services. I've been working for Cintra for 4 years and I started off working as a Bookings Coordinator in the team I now manage. This has given me a unique perspective and a deeper understanding of the demands and operational needs of the Bookings Team. As the manager of the Bookings Team I am responsible for organising the team on a daily basis. I act as the main point of contact for the team to speak to relating to a whole range of enquires from new customers, to complex interpreting and/or translation assignments. As we run a 24-hour service it is my responsibility to organise staffing in the office 24 hours a day, 7 days a week, 365 days a year.
How does a typical workday look like?
I start work in the morning by setting the team language groups to work on, this means that each Bookings Coordinator is responsible for sourcing, confirming and dealing with enquiries relating to a specific group of languages. In the mornings the team are typically busy sourcing interpreters for police assignments; perhaps in custody for suspect interviews or maybe for a witness statement at a home address. These bookings are often urgent and need confirming as soon as possible. I work alongside the coordinators to fulfil as many bookings as we have open, assisting with any complex queries. It can get very busy in the office and the team need to work together to ensure we get the interpreters where they need to be for their assignments. I often deal with complex and detailed assignments where the customer has specific requirements, liaising with officers regarding their specific needs.
Who or what organisations are Cintra's main customers? What are the difficulties they might face and how can Cintra help them?
We work with a whole range of customers across the public and private sector. In the Bookings Team we specialise in law and court assignments with contracts with police forces across the Midlands. Often the nature of this work is urgent and requests can come in 24 hours a day. Our aim as an organisation is to widen access to a whole range of public and private services. Providing our customers and clients with language services enables them to break down language barriers.
How do you select your linguists for a given assignment? What are the selection criteria?
The bookings team work closely with other departments such as HR and training to ensure we provide the highest quality interpreters tailored to each specific assignment. We take as much information about the assignment from the customer as possible and select the interpreter based on, among other things, their experience, location and qualifications.
What are the most common languages you work with?
Demand for different languages changes frequently, however the most common language requests are for Polish, Lithuanian & Romanian interpreters and translators.
What's the most unusual language you have worked with up to date?
One of the most unusual languages we have been contacted about is Soninke which is spoken in regions in Africa, notably Gambia and Senegal. I always find it fascinating to learn about new languages and on this occasion, I had a really interesting discussion with an interpreter who was keen to tell me more about Soninke and the variants between different countries. Discovering new languages and cultures through speaking with interpreters and translators is one of my favourite parts of the job I do.
Has there ever been an assignment that you would call your favourite?
There are many memorable assignments but one that stands out for me is one of our Hungarian interpreters who worked on a human trafficking case with a police force for almost 2 years. The interpreter travelled to Hungary on multiple occasions with the police to interpret for the victims and their families. The interpreter also spent many hours translating documents and their commitment to the assignment was really evident. The police officers dealing with the case provided outstanding feedback after working so closely with the interpreter for many months and I really got a sense of how much dedication and focus is required to be an interpreter on this type of case.
If you have some questions about how we work and in what way we could assist you, just give us a call at 01223 346870 or send us a message at cintra@cintra.org.uk.