Archives for company news
We are happy to announce our next Diploma in Police Interpreting course in Warwick!

Are you bilingual, have excellent communication skills and have been thinking of becoming a police interpreter? If you've been dreaming of becoming an interpreter in the criminal justice system, now is the time to make those dreams come true, with Cintra's Diploma in Police Interpreting preparatory course. …read more


Cintra is absolutely delighted to announce that following the recent procurement process, it has once again been chosen as a provider of face-to-face interpreting services for the INTRAN partnership, covering a large number of public sector and voluntary organisations in Norfolk, Suffolk, Cambridgeshire, Hertfordshire, Bedfordshire and Essex. This continues a working relationship which has already lasted since 2001, and which will allow Cintra to continue to serve many existing and new customers via the INTRAN Framework.
Cintra's Chief Executive, Jerry Froggett, commented: "Having served so many public sector organisations so loyally for many years, it is especially pleasing that this will continue under the new INTRAN Framework, and we very much look forward to the future of this very long-standing relationship. Our loyal regular clients accessing Cintra's services via the INTRAN Framework can continue to do so as they have always done when the new Framework agreement commences on the 1st July 2017."
This news adds to an already exciting recent phase in Cintra's interpreting business, with new contract wins for police forces (together with the renewal of existing contracts) as well as a partnership to enable Cintra interpreters to serve courts in the East of England leaving the company well placed to grow its overall interpreting operations during the remainder of 2017. Now holding positions on a range of national interpreting framework agreements, Cintra is fully accessible to the UK public sector. For further information about how Cintra can assist your organisation with its language service requirements, please contact Ben Ablett, Cintra's Head of Sales & Marketing, by telephone, 01223 346675, or email, ben.ablett@cintra.org.uk.
Growth found in translation
Cintra Translation, a leading East of England language services agency, today signalled its growing strength in the commercial translation and interpreting sector with the announcement that it has purchased translation agency First Edition.
With an annual turnover currently in excess of £3.5 million, Cintra Translation operates a round-the-clock, 365 day-a-year service, supplying qualified interpreters and translators skilled in over 100 languages for public sector and commercial clients.
First Edition Translations is one of the UK's oldest established translation agencies with particular expertise in editorial translation in the publishing, pharmaceutical and life sciences sectors. Both companies are based in Cambridge, UK, serving clients in Britain and internationally.
Quality is in the DNA of Cintra and First Edition
Announcing the acquisition, Cintra Translation CEO Jerry Froggett said: "Quality is in the DNA of Cintra and First Edition. In an increasingly competitive and price sensitive sector, we stand out in our industry as operating not only some of the strictest recruitment processes for linguists, but also for offering superb opportunities for training and professional development.
"This consistent emphasis on quality and trust over many years has brought commercial success and earned both companies excellent reputations with clients here and abroad.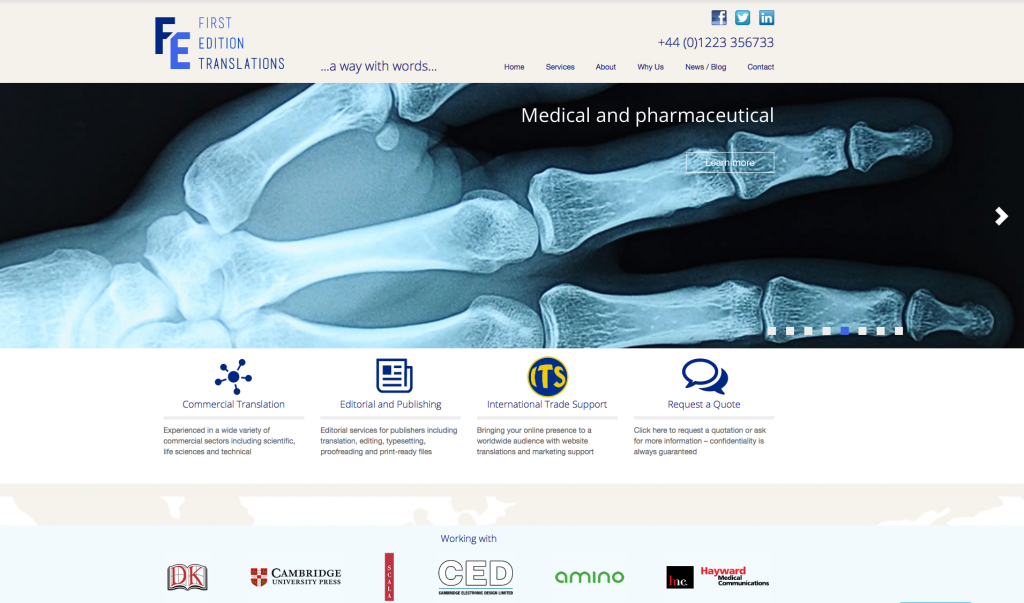 "Now with First Edition on board, and capitalising on the expertise available on our doorstep in one of Europe's fastest growing and most dynamic regions, Cintra Translation is exceptionally well-placed to extend our offer both to clients and to the exceptional linguists we employ. We look forward to considerable growth in our market share."
Our shared commitment to quality and integrity is fundamental to our plans for the future.
First Edition Managing Director, Sheila Waller, shares that vision for growth and will play a key role in the new company. She commented: "Our shared commitment to quality and integrity is fundamental to our plans for the future."
Jeremy Waller will continue to maintain a prominent role in Cambridge, including owning the art gallery, jewellers and craft gallery, Primavera, on King's Parade and Magdalene Street. He will also continue to advise on commercial and financial matters in Cambridge.
The companies will continue to trade as Cintra Translation and First Edition Translations respectively with no immediate plans for a change of business entity.