Training interpreters to handle real-life dilemmas
 Many of our interpreters work in social services and care settings. Sometimes it does happen that they are the only witness to unsafe practices or intimidating behaviour.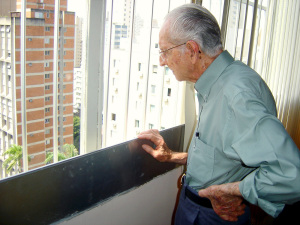 Mr Kovacs is working very hard this morning. He's holding tight to his Zimmer frame, edging first one foot forward and then the next. Every now and again he stops to take a deep breath. It's a  slow journey, but the physiotherapist isn't impressed. There are no encouraging words, just brusque, rude instructions. When Mr Kovacs does his exercises, he is treated disrespectfully with no care for his comfort or dignity. His limbs are held roughly and manipulated in jerks and spasms.
You've been called in to interpret for Mr Kovacs in his physio assessment. You've not met him or the physio before, but after ten minutes, you think, 'Something's not right. This physiotherapist is out of line.'
Although he's distressed himself, Mr Kovacs notices your concern over the care worker's inappropriate behaviour with horror. He whispers a plea that you say nothing. Mr Kovacs is clearly in fear of the consequences. What do you do?
Promoting professional practice
Mr Kovacs' story is a training scenario, one of several we use in Cintra professional development courses. Situations like this don't crop up in every assignment, but experience shows us that not everyone works to the highest professional standards. We promote a professional code and offer our interpreters this sort of training because sometimes they are the only witness to unsafe practices or intimidating behaviour.
"In most situations, the interpreter's role is to translate the exchange, not to comment or judge the interaction in any way", explains Maria-Teresa Capone, our Professional Practice trainer,  (pictured, left) "but when you see something that isn't right, of course, you ask yourself all sorts of questions about what you should do for the best.
Being a whistle-blower isn't a comfortable place to be
In this scenario, the interpreters will be wondering if the elderly patient is safe in the care of this health professional. Suddenly it's not an ordinary working day: you're facing a very challenging ethical dilemma. 'Should I ignore the patient's request and just raise the alarm, or should I mind my own business?' Yes or no, how you respond will have serious consequences for everyone concerned.
"And of course, adds Maria-Teresa, "you have to be quite a strong individual to challenge the actions of another professional. We all understand that being a whistle blower isn't a comfortable place to be."
"In this instance," Maria-Teresa continues, "the interpreter's position is quite a tricky one. If this involved a child, the interpreter's obligations would be much clearer: they have a legal obligation to report any concerns immediately. Where safeguarding the elderly is concerned, however, the law is much more of a grey area."
Cintra linguists are trained to consider wider ethical issues
Interpreters work alone, often in unfamiliar surroundings with no on-site support from colleagues. In our group training sessions, Cintra linguists take time out from the front line to understand the law, consider grey areas, and understand how their professional Code of Practice can help them make the best decision at the time. Maria-Teresa says: "Facing these sorts of ethical dilemmas in your day-to-day working life is obviously stressful and worrying. Our continuous professional development sessions give interpreters the opportunity to work out how to balance their professional obligations with their obligations as a citizen. It's not easy, but it's an important contribution to developing safe, responsible professional practices that work in the real world to balance everyone's best interests."

Contact us about training and continuous professional development for language professionals. 
'Mr Kovacs' is posed by a model. photo: Mokra/ www.freeimages.com